Over the past year, we have been working to better develop both the infrastructure and the experience of using cPanel with WordPress. This time our goal has been to provide our customers with an easy, dependable, self-service method for managing WordPress sites through the cPanel interface. We are pleased to be releasing the first phase of this work to our customers in the form of WordPress Manager.
cPanel WordPress Manager is a plugin that comes shipped with our latest WordPress RPM via WHM cPAddons/cPanel Site Software. The new format for cPAddons automatically tests every new release of WordPress against supported versions of cPanel & WHM ensuring we can offer the most up to date version of WordPress to our users while maintaining compatibility.
Administrator User Password Resets
You requested and we've delivered!  Password resets are among the most common support requests for web hosting administrators with clients using WordPress. WordPress Manager alleviates the burden of manually resetting a client's password credentials and introduces a simple, one-step process that allows any cPanel user to reset the password for any WordPress admin on their account.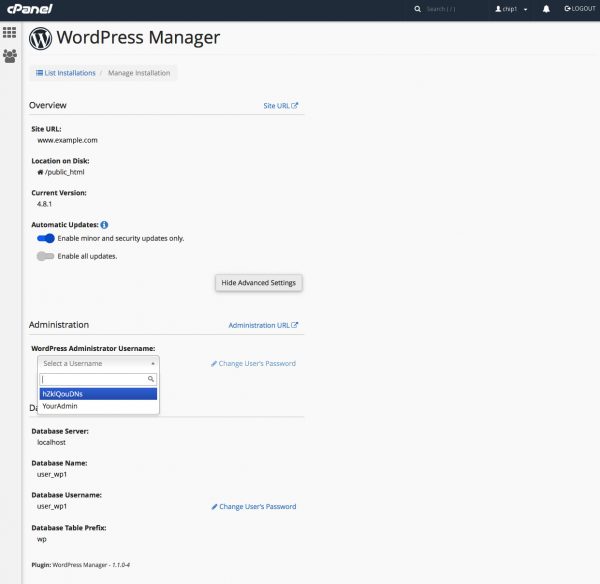 Auto-Update Configuration Made Easy
Updates are a key component to maintaining security for WordPress sites as well as your servers. This is why all new installations of WordPress via WHM cPAddons/cPanel Site Software are automatically set to update all minor security updates by default. (Major version updates still have to be upgraded manually.)
While automatic updates are a convenience for most users, we have added options for site owners that need more control over how and when updates are applied. In the WordPress Manager settings, users can choose which automatic updates a client wants to have applied or to turn them off completely. We do this by changing WordPress global configuration variables without adding a plugin into WordPress.
Continued Commitment to WordPress Integrations
Not only have we been hard at work delivering these features, we are also currently working on a roadmap for deeper cPanel & WordPress integration that will provide powerful tools that help your clients easily manage their own WordPress sites.  
For additional information about WordPress Manager, take a look at our new versioned documentation:
---
Want some insider information?
Join us for cPanel Conference in September, where we will be discussing this more in depth and presenting some of our new killer features!