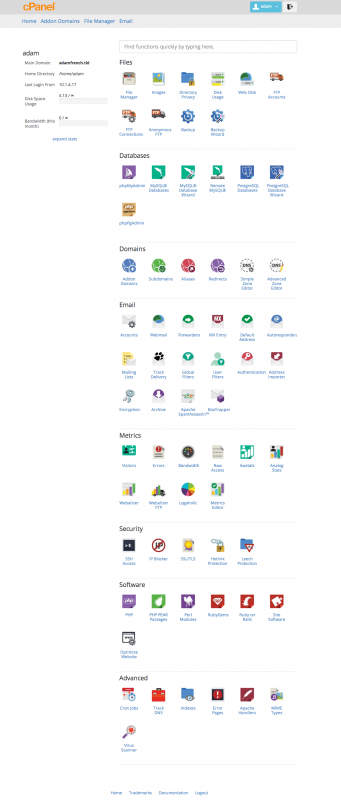 Paper Lantern is the next look and feel for cPanel.
How Paper Lantern was developed
For a product with an incredible amount of depth and complexity, one of the first things we decided to do was adopt Twitter Bootstrap 3 as our standard UI kit and solid base for future work. With Twitter Bootstrap, one of the most common UI kits utilized by web professionals today, we hope that web developers and designers will be able to crack open the code and easily create beautiful, new themes.
Next, we began identifying and reusing elements across more of the user interface to increase consistency throughout the project. Consistency helps users to quickly become familiar with using their cPanel account. Once a user learns one feature with a consistent layout, the next feature becomes that much simpler to navigate.
After we establish a sound foundation to build on, even more dramatic changes will take place that will separate Paper Lantern from it's X3 roots. We have many, many more ideas in mind for Paper Lantern—11.42 is only the beginning.
Send us feedback!
Paper Lantern not only introduces a dramatic change in appearance, it also requires lots of heavy lifting, even for modifications not visible to users. We are developing Paper Lantern openly, which means that you can see changes as they happen. Going forward, each cPanel release will include the latest iteration of Paper Lantern and preview builds will be released regularly to users who want to play with them. In addition, we will continue to update our demo server frequently with the most recent changes to Paper Lantern. Check it out and let us know what you think.
How you can try Paper Lantern for yourself
If you are currently running a build of cPanel & WHM software version 11.42 and you do not have a reseller account, then contact your reseller and request that your account be set to the Paper Lantern theme.
If you are currently running a build of 11.42 and you do have a reseller account (or reseller privileges), then:
Log into WHM
Click Modify an Account in the sidebar.
Select an account and click Modify.
Select Paper Lantern from the cPanel Theme menu and click Save.
Log out and then log back into WHM to see your new theme!
Please remember that Paper Lantern is very alpha in 11.42 and will be going through quite a few big changes over the new few releases. Nothing, including the visual presentation of Paper Lantern, is set in stone at this point and we need your feedback more than ever. Email us or post in our User Experience forum and we'll see it. Let us know what we're getting right, what needs improvement, and if you have ideas about how we can make Paper Lantern even better.