Are you an SEM enthusiast? If you enjoy trying and testing new and exciting tech, join our cPanel SEO Beta Testing Program and help improve our tools, service, and solutions.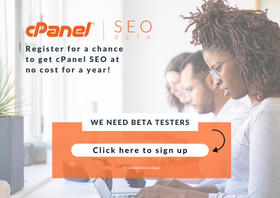 We ask that you don't publicize or share the features you're testing until they're officially launched. (Including comments on social)

By beta testing, you'll become an important part of our product development. Your participation and feedback will help us release a better version of our tool as we evolve our product stack.

For a limited time, you can sign up to become a beta tester for a chance to win a free year of cPanel SEO service with us.
What is cPanel SEO?
cPanel SEO is easy to set up, intuitive to use, and created to help potential new customers find your website by improving your search engine results and website traffic. With our tool you can:
Discover keywords that work for your business
Manage, analyze, and optimize your website
Track your competitors, and compare results
Be one of the first to use cPanel SEO, then share your thoughts and experiences with us through a series of surveys as you use the product, and you'll be eligible to receive a year of cPanel SEO at no cost as a thank you for your honest feedback.

Help shape the future of cPanel SEO, become a beta tester today.