While talking with our partners one day, one of them said something that other users and partners confirmed repeatedly:
"Customers close down their accounts for a few reasons", the partner reported, "but the biggest one is that they just simply never got started."
They. Never. Got. Started.
For many end users, they simply want to get online. Installing and managing WordPress, Drupal, or other content management systems vastly over-serves this demographic. They have very simple needs. Why should fulfilling their needs include managing plugins, worrying about PHP dependencies, or sweating security vulnerabilities?
That's where the new Site Publisher feature in cPanel & WHM version 56 comes in.
The Site Publisher feature provides a quick way to publish your first website. To use the Site Publisher interface, end users simply choose which domain they would like to publish to, which Site Template they'd like to publish, answer a few questions, and then hit publish. That's it. No configurations, no installations, no set up tasks… Boom! Website.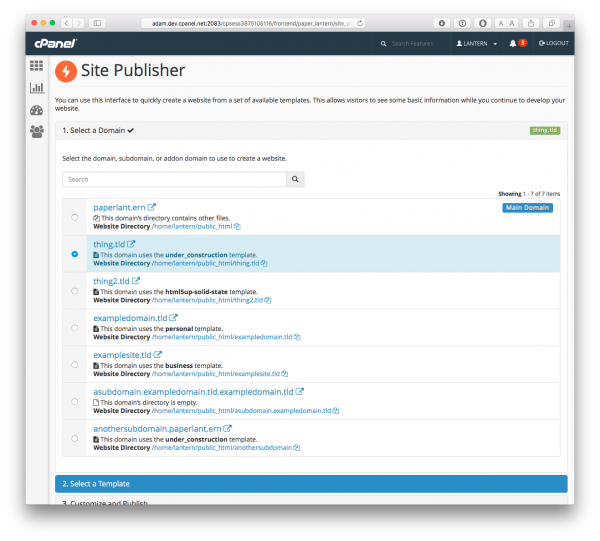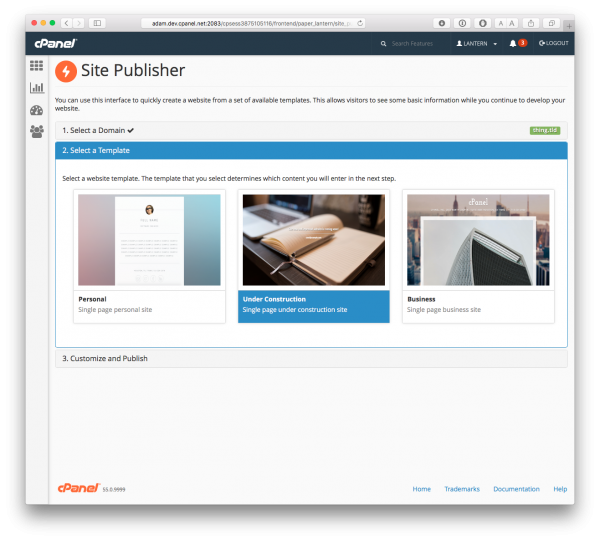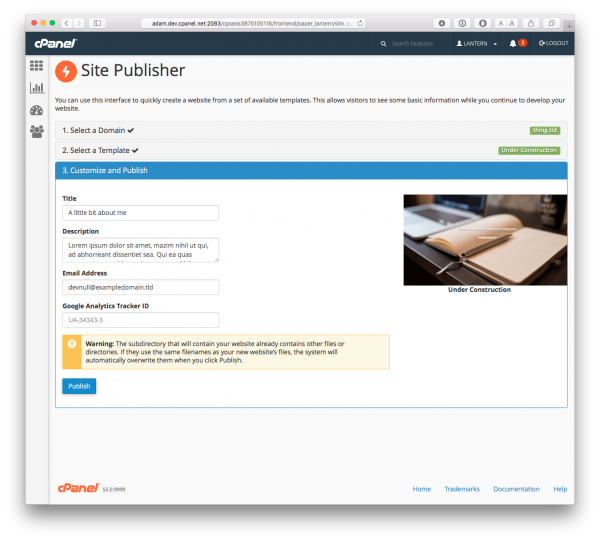 With version 56, cPanel will ship three default Site Templates:
A personal website
A business website
An Under Construction page
You aren't limited to these three options, though. Site Templates themselves can be anything, and hosting providers can design and offer as many templates as they'd like. Site Template designers have complete control of their Site Templates and can ask end-users questions to customize it. Far from a site builder, the Site Publisher focuses on getting something online… a restaurant page… a small business home page… a musician's demo tape… an artist's portfolio… Anything can be in a Site Template, from static single-page apps, to advanced JavaScript apps, to sites built with PHP, and so much more.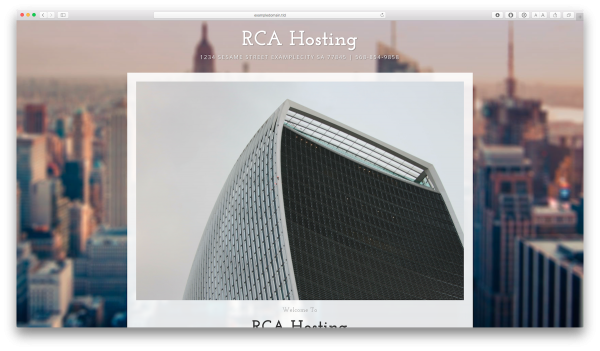 Behind the scenes, the Site Publisher feature acts as a simple customizer and installer. When you press Publish, the selected Site Template is rendered into the document root of a domain and all of the end user-provided information is included. Internally, the Site Publisher feature uses a templating language called TemplateToolkit to render end user-provided content into place.
Over time, you'll see more Site Templates added to the Site Publisher, as well as additional functionality. We look forward to seeing how you use this feature to meet your customers' needs.
photo credit: https://www.pexels.com/photo/idea-bulb-paper-sketch-8704/