First and foremost, all of you on the East Coast, you are definitely in our thoughts. We have so many great customers all over, and hope you are doing okay.
This coming Monday, cPanel & WHM 11.34 is expected to be moving to STABLE. This week, Mario, and the Account Team, hosted a webinar that showed off the different features of the new version. You can view that on cpanel.tv here: http://go.cpanel.net/1134webinar, in case you missed it.
I know, most of us like to test drive before we commit. We have a beauty of a demo website where you can log in and test it from the point of view of a Webhost Manager, cPanel Domain Owner, or a Reseller Domain. That's available here: http://cpanel.net/demo/. Go ahead, give it a go, and test out all of the new features.
While cPanel, as a company, is very dedicated to creating a great product, and keeping that focus, there's always a side to things that people don't get to see. While we're going to keep the Releases and News sections all buttoned up, we are revamping the blog to showcase a different side of cPanel. Not only are we working on a new look for it, it'll also be a casual place for some of the brilliant minds here, and guests, to share their thoughts on cPanel, technology, etc. While some posts may have a serious tone, we also hope to show a little bit of that side that you all don't get to see on the daily. In the weekend blog, we'll be highlighting some of the things that happened during the week at cPanel.
Let's kick that off with our CEO's assistant, Cassie, winner of the Chili Cook Off! Her secret? We'll never tell. Did you know cPanel likes food- as in, a lot? Essentially, it was a blind taste test. A line of Crock-Pots, and nearly every person in the company, filled the room. The top three; Cassie in first, Kurt in second, Andrew in 3rd, got a prize, and Cassie gets her name on the trophy. Below is a photo, and no, that's not a stranger danger on the screen, the Chili Cook Off poster just displays oddly with the lights.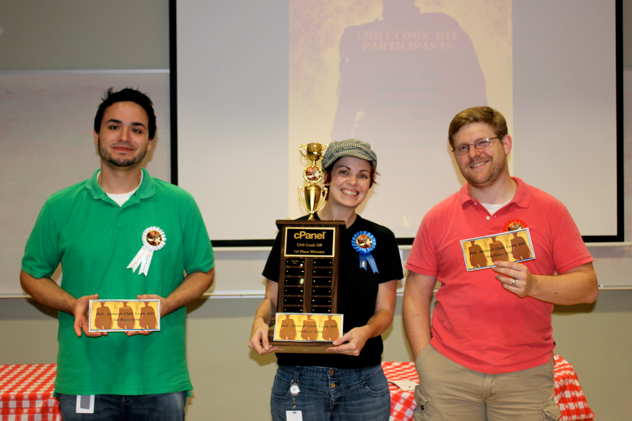 Listen, everyone be safe this weekend. Get some sunshine!