We spend a good portion of our time on the road talking to customers, like you, about what's coming next for cPanel & WHM, but if you aren't lucky enough to meet us at a conference, you may not get a chance to find out about what's coming down the pipeline until these features are released. Hopefully, this post solves that problem.
Getting one thing out of the way…well, two ones

In 2007, we released version 11 of cPanel & WHM. Eight years later, users are still wondering, "When will 11 become 12?" — and now — we have an answer.
Never.
That's right. Starting with our next release, we're eliminating the 11 to simplify the naming convention of our software. While this change will have no effect on functionality, we hope it will cut down on some of the confusion our users have had about which version they're currently using.
We'll drop 11 from the version number starting with cPanel & WHM 54, but you still may see traces of it inside the product for a little while.
Saying goodbye to X3
For most of the past eight years, X3 has been our only, though wildly popular, theme. We know change can be difficult, but it's time that we rip the band-aid off on this one.
The X3 interface will slowly be phased out of the product starting with cPanel & WHM 54; however, users currently enjoying a custom theme still have some time before X3 is fully disbanded. You can find the full deprecation schedule in this post.
A modern experience
We love X3 as much as anyone, but when we introduced Paper Lantern, we knew we were on to something. It wasn't just about the visual aesthetic of the user interface, it was also about delivering an enhanced experience for hosting providers and their users. So we created a platform that is not only easier to brand, but retains the functionality that users already familiar with cPanel can appreciate.
Forget the name "Paper Lantern" moving forward. Just think of it as the modern cPanel UI.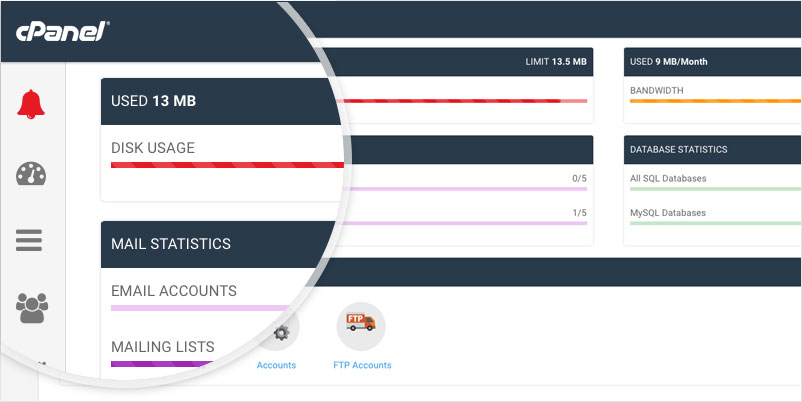 We'll introduce changes and improvements in 54 and beyond, but the interface will maintain the same functionality that you and your customers have come to know and love. We'll also debut the ability to add "favorites" to the top of the dashboard, giving you more control over the functionality that you need and want to see in cPanel.
And for those of you who just can't get enough of X3, we've built a version into the new interface that we affectionately refer to as the "Retro Style".
All things access
cPassword
A typical cPanel & WHM server provides some common services, including FTP, Webdisk, and email, but currently, only one of these services allows a user to change their password.
We realize this can be confusing and can cause headaches when it comes time to remember several different usernames and passwords.
Problem solved.
We're introducing a unified interface to create and manage all of these services from one location. This will not only make it easy for you to manage your users, but in turn, they'll now be able to change and manage their own passwords for the services they regularly access.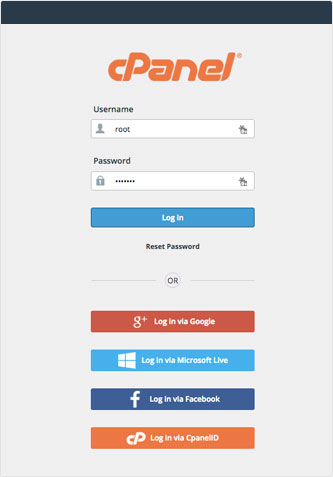 OpenID Connect
We're expanding our authentication system to include OpenID Connect.
This is another step to reduce the number of login credential info that users are required to memorize. This system allows users to sign into cPanel with services that many people already use, like Facebook, Twitter, and Google.
We'll provide an authentication system hosted on cPanel.com to facilitate sign-in across your cPanel & WHM systems. Providers will also have the ability to provide their own authentication systems to customers.
Two-factor authentication
System breaches have become such a typical event in today's world so we want to increase your confidence when using the cPanel, WHM, and Webmail interfaces. Starting with cPanel & WHM 54, we'll provide two-factor authentication, a feature that should greatly improve user confidence about secure logins.
This solution will initially be software-based, i.e. Google Authenticator, but in time, we plan to add a hardware-based solution as well.
IPv6 Only
We'll extend our support for IPv6 to as many services on cPanel & WHM servers as possible over the next few months, with a long-term goal of users being able to use a cPanel & WHM server with only IPv6 addresses.
While we introduced support for hosting web content on IPv6 addresses in late 2013, the limited supply of IPv4 addresses means that you may need access to this feature sooner rather than later. By introducing it now, we aim to reduce your stress when it comes to handling the challenge of using IPv6 addresses.
Site and server performance improvements
nginx caching
Website performance is a reoccurring topic on our Feature Request site. As part of cPanel & WHM 54, we'll introduce support for nginx as a caching server for Apache.
Because ngingx is one of the most commonly-used servers for caching, we've added this support to make increasing website performance easier for you.
Directory syncing
Many of you have created custom configurations for scaling a website across multiple servers, which can be costly and time consuming. In cPanel & WHM 54, we will offer the functionality to sync the contents of a directory across multiple servers.
This, along with nginx caching, will greatly improve site performance, while cutting down on the time and resources that many of you spend creating solutions for this problem.
Some things just keep getting better
EasyApache 4
With the release of cPanel & WHM 11.52, we introduced a preview of EasyApache 4. Starting with version 54, this will become the default means of installing and updating your Apache and PHP stacks.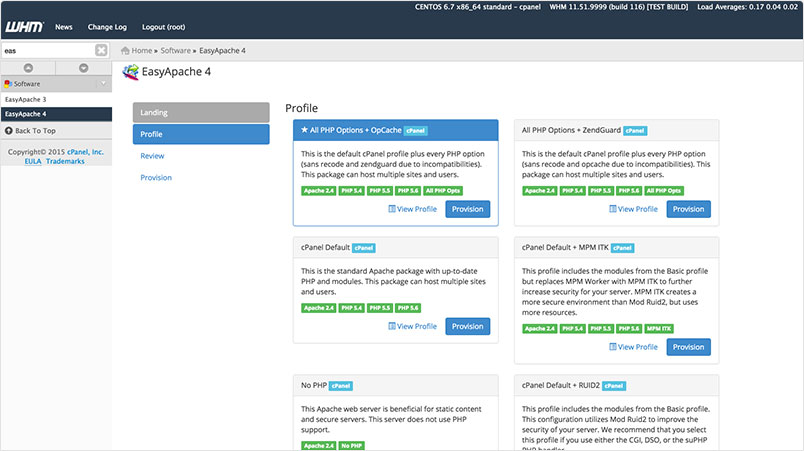 From Courier to Dovecot
Because we believe that our customers deserve better, we've deprecated the Courier Mail Transport Agent in cPanel & WHM 11.52, and we'll remove it completely with the release of version 54.
Dovecot uses less memory and offers better system performance, common requests among our users. If you haven't already migrated to Dovecot, we'll migrate you automatically during the upgrade to cPanel & WHM 54.
Share your feedback in the comments below!
---
It's important to note that the features mentioned can change based on customer feedback, security occurrences, and any number of things that can affect software in active development. As always, if there is a feature that you would like to see in future versions of cPanel & WHM, then please let us know about it on our Feature Request site.