WHMCS, the most popular web host billing and automation platform for cPanel web hosts, recently launched a major new update that brings with it a whole host of new features and improvements. Now, in version 6.0, we're proud to introduce a platform that's not only more powerful, but one with the tools to create a more unified experience between WHMCS and the cPanel & WHM dashboard.
WHMCS Connect
WHMCS Connect provides a single centralised interface to administer and manage all of your cPanel & WHM Servers. Utilising Single Sign-On Technology, WHMCS Connect allows you and your administrators to quickly and easily access the WHM control panel of all the servers in your cPanel & WHM fleet, enabling you to administer and make changes without ever needing to re-authenticate.
What's more, with WHMCS Connect, you no longer have to worry about securely sharing or ensuring that all your staff have up-to-date passwords for your cPanel & WHM servers, as those details are stored in the centralised WHMCS platform and never need to be shared.
Single Sign-On & Client Area Integration
We have something for end users too.  Taking full advantage of the new Single Sign-On integration between our two products, the all new end-user interface (pictured below) is designed to provide your clients with an easier and more convenient way to access many of the most commonly used functionalities of the cPanel control panel.
By bringing features of the cPanel control panel into the WHMCS client area, it gives your customers more reasons to keep returning to your website.  By visiting your website every time they want to manage their own, it keeps customers more engaged with your brand, where you're in control of the user experience, customers are closer to your help and support resources, and closer to your other products and services for maximising upsell opportunities.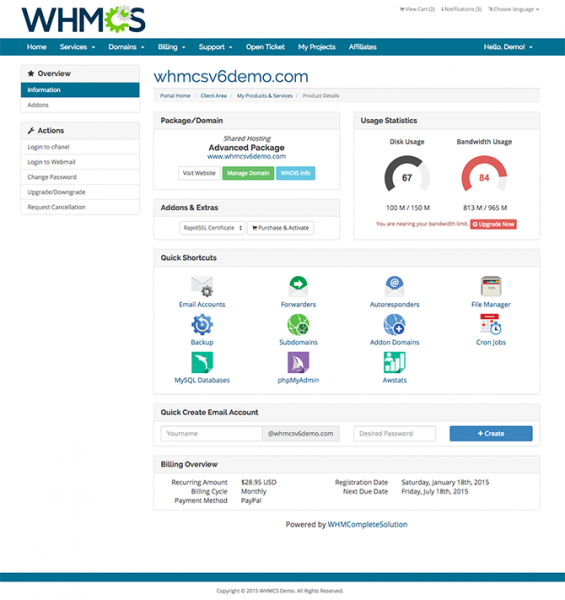 ---
What is WHMCS?
WHMCS is the most popular web host billing and automation platform for cPanel web hosts.  Integrated with cPanel & WHM for fully automated account provisioning and management, WHMCS simplifies the day to day workflow of any hosting operation.
With a strong focus on customer support, and with development being driven by custom feedback, WHMCS is a secure, extendable and scalable solution, that will enable you to grow and develop your business, while optimising and reducing the costs of billing and supporting clients.
Upgrade to WHMCS 6.0 to take advantage of this new functionality today.  Find out more.