Next week, the cPanel team is packing their bags and heading to the Golden State for HostingCon Global 2015. The theme of this year's conference is "Discover What's Possible," a notion that couldn't be more of a paradigm for our business.
A look into the future
Guests of HostingCon Global will enjoy a special cPanel treat, a tour though our Product Roadmap. They'll learn about upcoming features and new tools scheduled to debut in the cPanel & WHM dashboard.
Shifting Agile
Stephen May, Marketing Product Owner at cPanel, will show attendees how to unite Scrum methodologies with business marketing in "Agile's Not Just for Development Anymore." This HostingCon Global presentation will describe ways that tech business leaders can borrow elements of Agile development and apply them to their marketing efforts.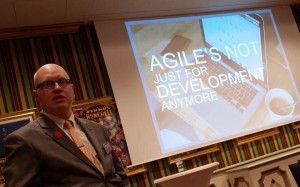 A special soiree
What we may be most excited about is an exclusive HostingCon Global soiree that we've planned for our friends and customers. There will be drinks. There will be music. And there will be an opportunity to luxuriate in the company of hosting innovators and cPanel enthusiasts.
See you in San Diego!