In cPanel & WHM version 76, which we expect to be in EDGE this week, we renamed "Proxy Subdomains" to "Service Subdomains" due to improvements we are making under the hood. Let's talk about where they came from, and why we're changing their name!
What are Proxy Subdomains?
Proxy subdomains allow users to connect indirectly to the cPanel & WHM login pages. Rather than opening example.com:2083, they can open cpanel.example.com. Proxy subdomains have two primary uses for hosting providers and cPanel users. First, they help make remembering how to access cPanel easier. cpanel.example.com is much easier to remember than the port number 2083 or the URL example.com:2083. Second, they make it easier to access cPanel. It is fairly common for a network administrator to block access to non-standard ports. Any user who is unable to connect to port 2083 can navigate to cpanel.example.com to bypass this restriction.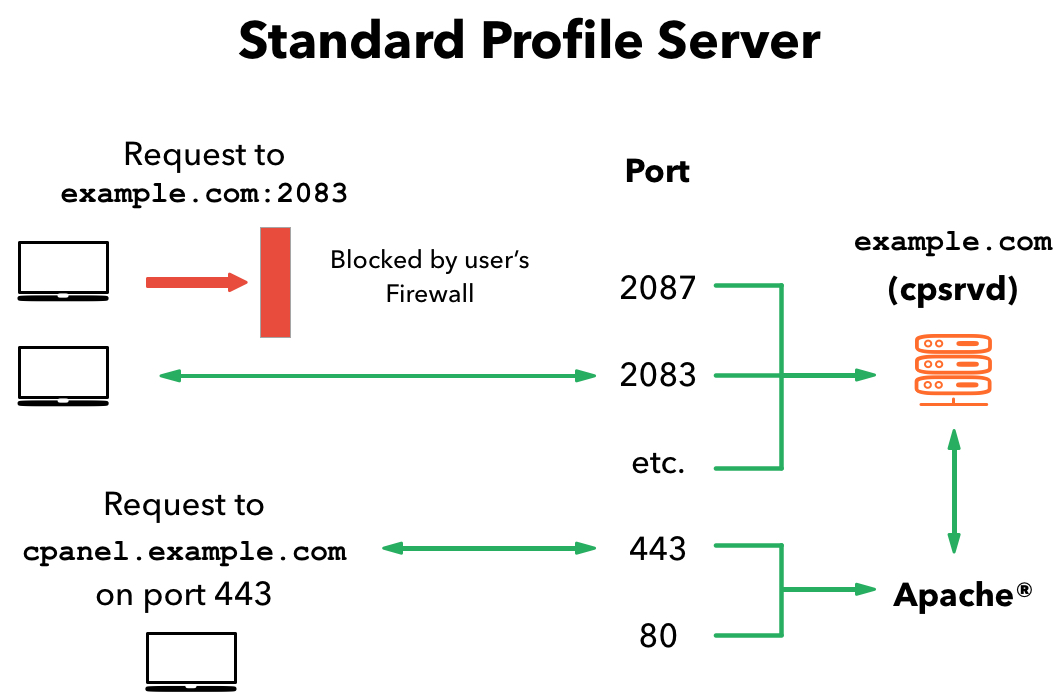 Users can enter cpanel.example.com to log in to their server.
Why the change?
We are currently developing a new cPanel & WHM feature based on different kinds of server configuration profiles. This feature is included in version 76, but is also marked as experimental. One of these profiles is called a Mail Profile, and the Mail Profile is optimized for email hosting. This server profile disables most of the services that do not directly support mail and includes other improvements. These improvements result in leaner memory and CPU usage, and better overall experience!
On a cPanel & WHM server, there is a daemon that we run called cpsrvd. For this blog post, think of cpsrvd as the entire cPanel & WHM product, including cPanel, WHM, and Webmail. On a standard server, Apache (the webserver) would listen on ports 80 and 443 (the standard web ports) and proxy the cPanel, WHM, and Webmail subdomain traffic as an intermediary to cpsrvd. In the Mail Profile, cpsrvd now listens to ports 80 and 443 directly, without Apache in the middle. Apache will not need to proxy traffic on the Mail Profile server. For this reason, we are renaming "Proxy Subdomains" to "Service Subdomains." This name more clearly describes the subdomains' purpose, rather than focusing on the implementation.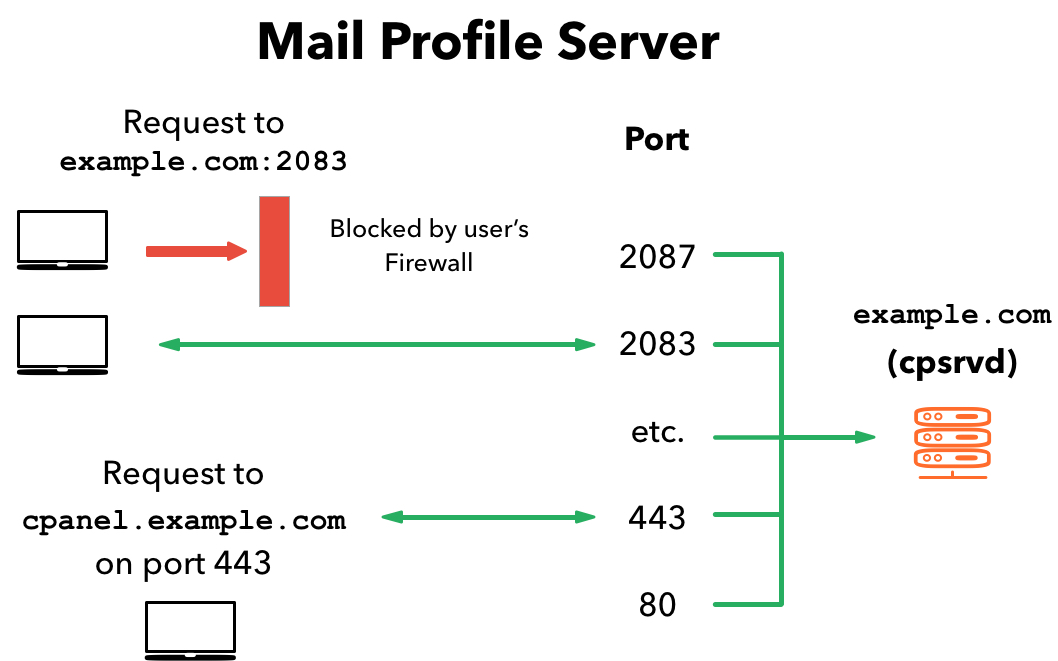 Users still connect to  cpanel.example.com  to log in, but the server handles the traffic differently.
What does this mean for me?
From the user's perspective, nothing will change. Users will still use the subdomains as they have historically, and still interact with the server the same as they have. The only difference is how the system delivers the domain, and the name of the feature. This implementation changes will not disrupt the user experience in any way. For consistency, we will apply this renaming across the entire product.
Want to know about server profiles? You should definitely come to the annual cPanel Conference just 11 days from today, October 1st – 3rd in Houston, Texas. Otherwise, stay tuned for more information on profiles and all of the other exciting news coming in cPanel & WHM Version 76!