This past week, Andrew Davis explained how his quest for meatloaf led him to discover that Google is the center of our universe, Cody McClain reminded us of the importance of adventure—even when you're building a company, and roughly 400 web hosting professionals turned a city known for oil & gas into their own personal playground.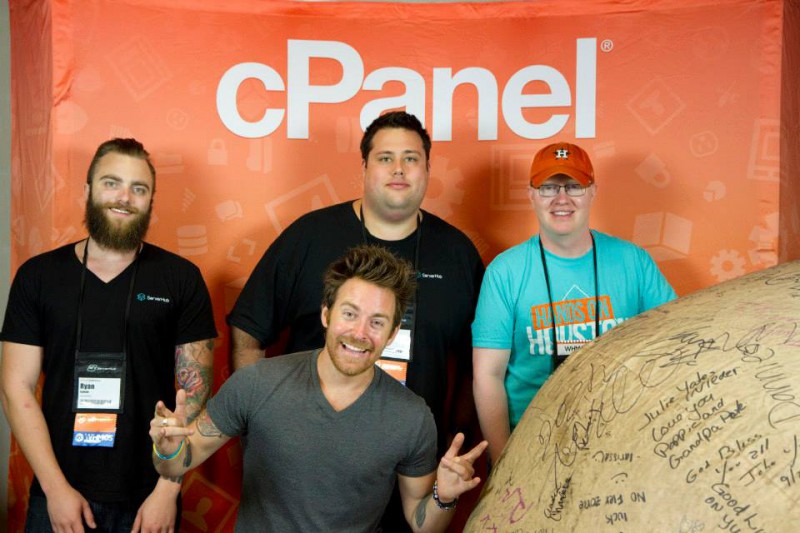 The ninth installment of our annual cPanel Conference began last Monday. After a day filled with unloading, unpacking, organizing, and other forms of physical activity foreign to people who work in tech, the cPanel team waited as our first exhibitors strolled in that afternoon to prepare for the coming days.
Our exhibitors, who came prepared to dole out endless amounts of t-shirts and goodies, also came equipped with some of the most elaborate booth setups we had ever seen. The SSL Store brought out every tailgater's favorite pastime, cornhole, SoftLayer challenged attendees to a high-intensity server installation game, and our friends at McAfee gave away brand new iPhone 6's to a few lucky guests. But perhaps the most exciting thing on the exhibit floor was WHMCS's assortment of specialty sodas, which included flavors such as graham cracker, PB&J, s'mores, and our personal favorite, bacon.
When the guests weren't snagging free knick-knacks and enjoying games in the exhibit hall,  they were attending sessions put on by cPanel's very own employees and some of our very special guests. Some of the sessions available for our guests included "The Latest Stories from the Nasty Edge of the Net" and "How to Not Develop Crappy Plugins" (we pride ourselves on doing this whole conference thing a little different). From engaging keynotes to hands-on workshops, our attendees could choose to sit back and absorb information, or dive into a lab and start playing around with new technology.
As with any conference, the true value comes from the opportunities offered to connect with other professionals and interface with potential clients. With that in mind, we made sure to add our special cPanel touch to the provided networking sessions. From opening night, where we enjoyed food and live music from guest DJ Elle Morgan, to the closing event where we all reunited with our inner twelve-year-olds at the Houston barcade, Joystix, our evenings were spent with laughter, festivities and lots of moments to truly get to know the faces and personalities behind the hosting industry.
Sign up here to find out where we're taking cPanel Conference 2015. Also, be sure to head over to our Facebook page to check out all the photos from the event.