On March 18th, Eric (cPanel's Director of Development Operations, who's also my older brother) and I got into a rented Mercedes and turned onto the Autobahn. We had a little over 600 kilometers to drive to Vechta and had to be back that night. It was not even a question of why we were on the road. I was going to meet the person that saved my life; a woman I did not know 6 years ago.  
When I was 18 (2004), almost 9 years ago, I got sick on a family vacation to Europe. The doctors misdiagnosed me twice before I went to MD Anderson. They confirmed, I had Acute Myeloid Leukemia caused by a reason I do not know, and will never know. I was treated with Chemotherapy for seven months and deemed cured. My doctor is now on the team for creating a vaccine for Leukemia. 

I relapsed 2 years later when I was 21 (2007), around August, and started Chemo again. It was hard to take. I spent a lot of time trying to understand everything. In December, I had a Bone Marrow Transplant from an unrelated donor. I didn't know much about the donor. I knew it was a woman, aged 37 years old, with one daughter. I spent a little shy of a month in the hospital, and I thank everyone who came by. That month included Christmas and New years. They say you spend an average of one hundred days in immediate recovery after release from the hospital. It took me almost one hundred and twenty. I went in at first, everyday, and then slowly scaled back to three times a week. I took on average 35 pills a day and developed diabetes as a side effect from the steroids.
After about a year, I was able to start functioning again. I went back to university and finished with a degree in Communications. During this time, I started working at cPanel and worked my way up from a part-time Desktop Admin to a Marketing Associate, and most recently, a Technical Product Specialist. As part of my new duties, I go to most of the tradeshows for the cPanel.
In December of 2010, I learned the identity of my donor. She lives in Germany and was happy to exchange emails with me. To keep her identity private, I will call her Jennifer. Jennifer told me she had a family and was excited to hear I am from Texas.
After corresponding for two years, I learned cPanel planned to send me to Germany for World Hosting Days. I knew I had to take the chance and visit Jennifer. I sent her an email and waited. Two days later she agreed to meet me and was excited. I tried to book a train for Eric and me, but decided it was cheaper to rent a car. The day after we arrived, Eric and I were on the road.
The Autobahn was fun and went quickly. I was nervous as I drove over 200km/h to meet her at the train station. We got there around 3:30 PM and found her with a friend. The friend had been to the US a few times and spoke excellent English. Jennifer spoke English much better than I spoke German. It was obvious immediately how much we looked alike. We both have red hair, blue eyes, and a ton of freckles.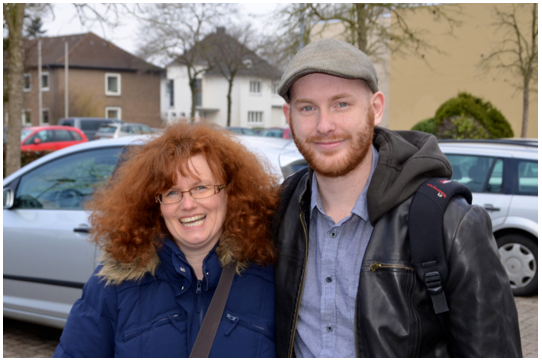 We went to lunch where we had fried pork chops and great conversation. She told me that she had never donated before and it was a very small thing for her to do. I told her it was a huge deal for me and meant the world to me. Even though we both came to the meeting nervous about the other, it was clear to see that we were both good people just wanting to meet each other.
I had brought her a Texas flag and Texans ball cap. She told me her daughter would love the hat and invited us to her house after lunch.
We drove to her house and it was obvious she wanted us to come over from the get-go. She had muffins, fresh from the oven, waiting for us. Her family arrived and were happy to meet us. We had coffee with the muffins and really got to know each other. Everyone seemed amazed we would drive from Rust just to meet Jennifer. We told them that it was an easy decision.
Jennifer's daughter is in the 8th grade and wants to come the US for university. We told her she had a place to stay in Texas and that their whole family would be welcome any time. Her whole family was amazing and humble about the whole experience. After one last photo, Eric and I had to head back to Rust. Another 600km had to be driven before the end of the day. We got back to the Autobahn and drove back. As soon as I was back at the hotel, I collapsed from the sheer emotion of the day. I will definitely have to go visit her again.
You can be the difference in someone's life, like Jennifer was in mine. Getting on the Bone Marrow Registry is easy and painless. Go to marrow.org to get a free test kit. The test is a simple Q-Tip swabbed on the inside of your cheek. After you send it back you will probably never hear from them again. But if you do, the donation is easy and much like donating blood. This simple act could save someone's life.