Version 68 was released this week, and I want to talk to you about one of the most exciting new features: As both an end-user and as a server administrator you can now restore individual files from an account backup! Let's take a look at how it works as of version 68.
Step 1: Have available backups
Before you can restore from an account backup, you must first have backups already made. To enable backups, go in to WHM as the root user, or as a root-enabled reseller, and navigate to the Backup Configuration interface. From there you can select the backup schedule and define which users you want to have backups. Please note: the restoration feature does require locally stored backups, so make sure you select "Retain backups in the default backup directory." if you are also storing your backups remotely.
Step 2: Restore a file
The interface is very similar in both WHM and in cPanel, so I'm just going to show you the cPanel interface here. To access your backups, navigate in cPanel to "File Restoration". If you don't see that option in cPanel, ask your server administrator to ensure that the "Backup Manager" feature has been added to your account.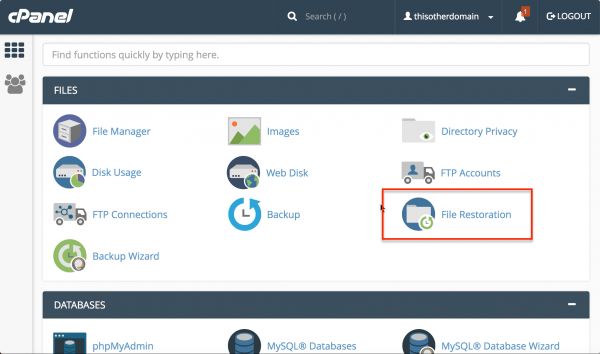 Once you open that interface you are presented with the list of files in your backup. For example, if you wanted to restore a file from your public_html folder, you would click public_html.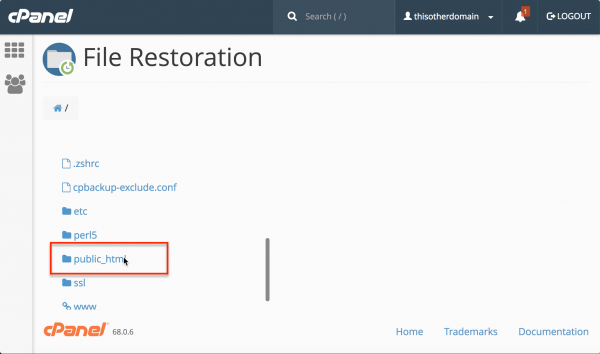 Then select the file that you want to restore (index.html in our case) and you are then presented with the list of dates that you can restore that file from.
Once you choose one version to restore, you are asked to confirm before continuing.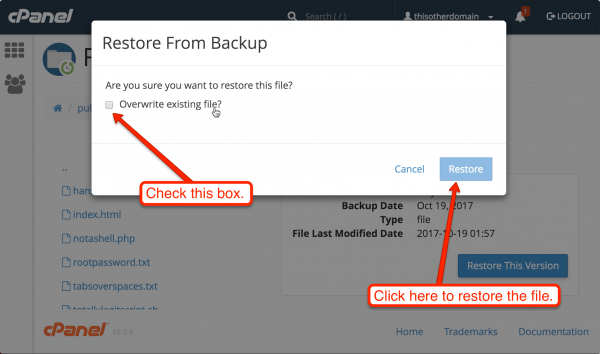 You also get a confirmation message once the restore is complete!
In case it's easier to watch for you, have a quick screen capture video:
How it works
When nightly account backups are taken, a file list is generated and stored in the backup folder for each account. Those file lists are used by the file restoration interfaces, allowing you to quickly and easily view the files available for restore.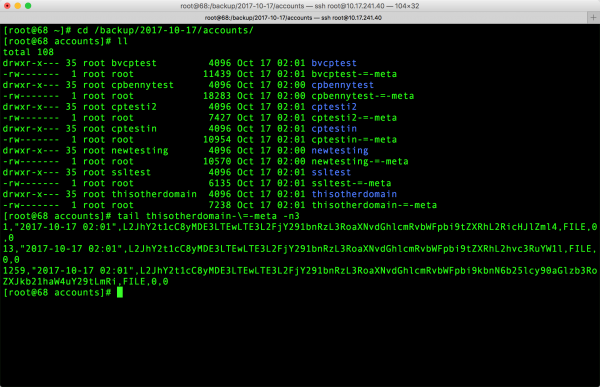 For detailed information about the contents of that file, how to generate it, and how to read it, see the version 68 Documentation.
What's next?
In 2018 we want to be able to update and expand this feature to include the ability to restore folders. We also have remote restorations and a more robust backup schedule on our radar. What else would you like to see? Comment below or find me on twitter and let us know what you think!
———
This post written almost entirely to my (admittedly heavy on Halsey) "don't know how to treat me" playlist.