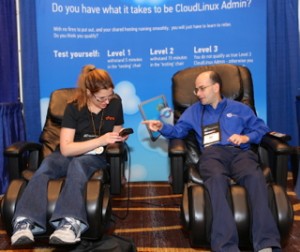 Where did the time go?  As we head into Day Two of cPanel Conference 2013, let's review the action thus far. Robert Marsh, President and CEO of eSigns.com, started us off with his rousing keynote on "Entrepreneurship, If I Knew Then What I Know Now" followed by Christian Dawson, COO of ServInt, with a keynote on "Lessons From 18 Years in Web Hosting." For keynote highlights, check out Ping! Zine's coverage:
The rest of the day was filled with so much to see, do, and (most importantly) learn! Along with our always amazing sessions and panels, this cPanel Conference marked the start of the cPanel lab. For the first time, attendees were able to interact with the speaker and the product or feature simultaneously. It is quite possible that D. Ruth Bavousett's lab "Let's Play with API: Writing a Simple Perl Script" drew the largest crowd. This cPanel Integration Developer continued her earlier session, "Pluginology 101: Integration Using the cPanel & WHM API," with a hands-on, guided tour of the Perl script writing process.
Another cPanel Conference fan favorite was the debut of "Speed Geeking." Attendees talked to different cPanel experts in nine-minute time slots. In a format reminiscent of speed dating, participants discussed everything from development to support. For instance, the marketing folks doled out advice on partner productization while also investigating usability obstacles. It was a win-win opportunity for both parties!
Of course, the most happening place to be is on the exhibit floor. This year, exhibitors came out in full force. HP spoke to attendees about the HP Moonshot System, a software-defined web server. The SSL Store was on hand with information on AutoInstall SSL and a prize wheel filled with all kinds of goodies. We were excited to welcome Fireblade, from Tel Aviv, Israel, for the first time. After making their way around the exhibitor floor, attendees were more than happy to join Igor Seleskiy, Founder and CEO of CloudLinux, at the company's booth for a relaxing moment (or ten) in a comfy massage chair.
After covering so much ground in Day One, one can only imagine what Day Two of cPanel Conference 2013 has in store!