CloudFest is an international Cloud Computing and Webhosting event drawing thousands of attendees from more than 70 countries. It was decided to cancel the 2020 conference due to the pandemic, but for 2021 CloudFest pivoted into a three-day virtual event.
Organizers launched the new online platform a day before the event officially started, allowing attendees to browse the virtual conference setup and reach out to sponsors and users alike. We began having visitors at the cPanel virtual booth as soon as the event site went online, with over 100 people stopping by our booth that day alone.
CloudFest Online Day One
The first day of CloudFest, dubbed "The Intelligent Cloud," was a mix of leading hardware and software vendors discussing AI and Cloud Infrastructure. The main sessions included speakers from Intel, Dell, HP, AMD, SuperMicro, OVH, and other high-profile players. Attendees looking for training and deeper discussions found the Masterclass sessions to be both informative and entertaining.
Understanding the networking aspect was a massive part of the live event. CloudFest offered several ways for attendees to interact:
Social Wall – The CloudFest Social Wall created a mini social network inside the event. Users posted everything from past photos from CloudFest, to talks, offers, and of course, adverts.
Networking Tables – Virtual networking tables started popping up in event softwares last year, mimicking a zoom experience; these can be useful but honestly, who wants another zoom meeting these days?
Attendee Chat – Chat seems to have been the winner for networking. Those of us who have been on the internet long enough have seen IM-based chat features come and go, but one thing is for sure they are still as strong as ever. The vast majority of people reading this likely have Slack or some IM-based software open on their device at this very moment.
Closing out the first day was the legendary Loud in the Cloud Music Festival, with the bad boys of the internet – The Lords of Uptime and Dell Technologies's hard-rocking band Mayfly, as well as some surprise guests.
CloudFest Online Day Two
The second day of CloudFest focused on WebPros in the Cloud and was the featured day for our cPanel sessions.
We kicked things off with a standing-room-only Masterclass Panel discussion on Contributing to WordPress, followed by a demonstration of the WP Toolkit from cPanel Product Owner, TJ Danklefs. Industry analyst Robert Jacobi led the discussion on how companies can best contribute to WordPress effectively and beneficially. Panelists included WordPress core contributors, WordPress Hosts, Google, and WordPress agencies.
A few hours later, cPanel and Plesk's new CEO Jens Meggers took the stage with a keynote address. His inspirational talk focused on a developer's first message targeting Web Professionals.
"At cPanel and Plesk, we have only one mission: We do everything to enable web developers to build, grow and operate their digital businesses. It's a cycle build, operate, grow." Jens also shared the latest acquisition of NixStats by WebPros.
cPanel's VP of Product, Kenneth Power, closed the day with an insightful talk about The Calculated Risk of Open Source in the Hosting Industry. Ken shared his and cPanel's love and support of Open Source projects and announced cPanel's immediate support for AlmaLinux.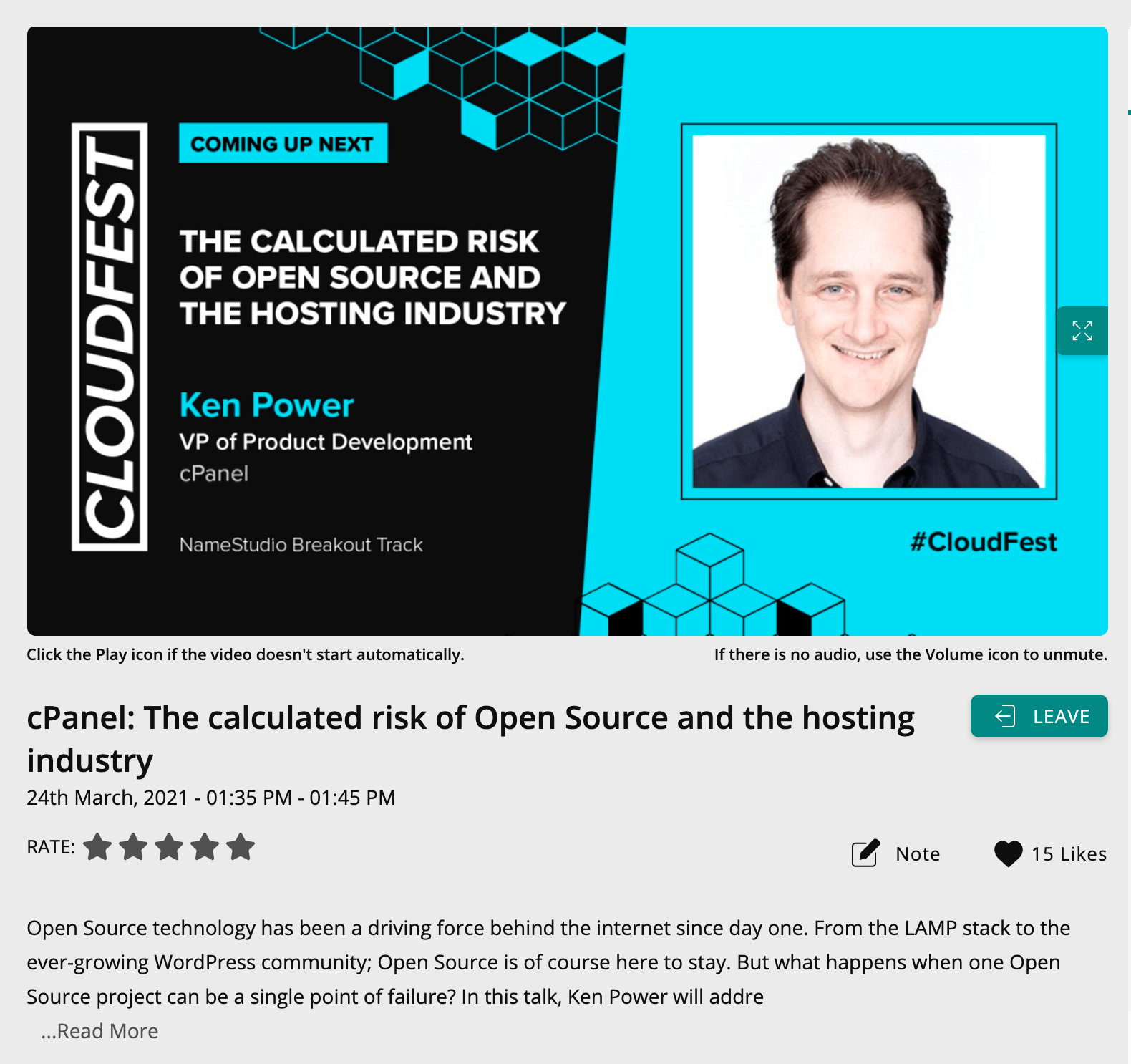 Closing the second day was the legendary Connexxtion Party featuring Iceland's Electronica act Gus Gus. Scheduled for the live event in 2020, Gus Gus was rescheduled for this virtual version and hinted at a CloudFest return in 2022.
CloudFest Online Day Three
The third (and final) day of CloudFest focused on Security in the Cloud and featured talks from Dell, Sectigo, Monarx, Dark Trace, and other Cloud Security leaders. The keynote from Sir Alex Younger, former head of British Intelligence MI6, addressed many of the internet's current security and censorship issues.
cPanel's final session of the conference came in the form of an open panel discussion, Women in Tech. This break time session featured the influential female leaders at CloudFest. We look forward to hosting more panels and events celebrating diversity throughout our industry.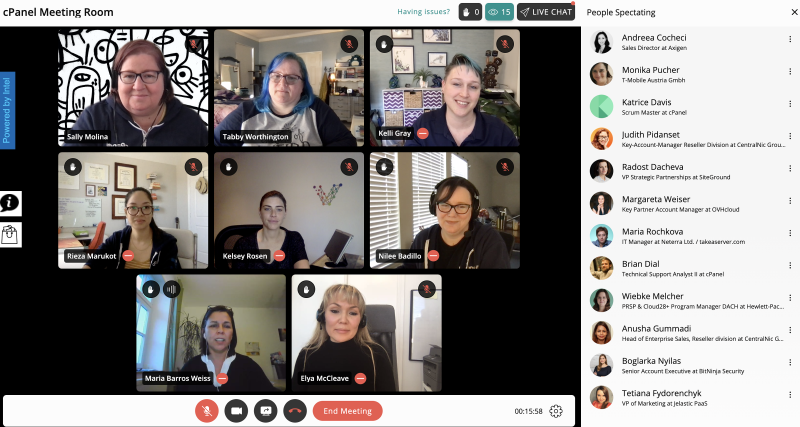 While the main event is over, the virtual platform remains online; you can still visit the virtual booths, watch the on-demand sessions, and connect with attendees. Visit https://www.cloudfest.com to get connected!
A proud sponsor of CloudFest online, cPanel looks forward to the point where we can all meet again in person, and we are ready and waiting for CloudFest 2022. Have any feedback or comments? Let us know. You can find us on Discord, the cPanel forums, and Reddit. Be sure to also follow us on Facebook, Instagram, and Twitter.