Being a Transgender Woman In Tech
Behind every piece of software is a team of developers, each with their own interesting story more complex than the code they script each day. At cPanel, we like to take the time to not only acknowledge the work they do for our product, but for a few special individuals, the work they also do for the world at large.
Ruth Holloway, a transgender woman and one of our senior developers, is one of those people that are constantly working to build better. She is building a better hosting platform and building a better future for all people inside and outside of the technical world.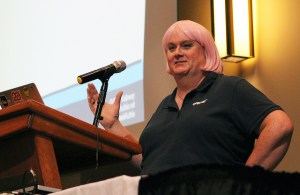 After a year of various speaking engagements at conferences like ACT-W (Advancing the Careers of Technical Women) and The Perl Conference, Ruth Holloway is gearing up to grab 2018 by the horns. However, the feisty pink-haired developer wasn't always the dauntless person she is today. Years before she spent her days brightening the halls and the code base of cPanel, Inc., Ruth, in her own words, was a painfully shy young person struggling to find a place where she fit.
Growing up in Texas was a curious place for the young techie who found herself better suited amongst the company of computers and books than people. She explains that at 13 she received her first computer, a Commodore VIC-20, which had 8KB of memory and spoke BASIC. A contraption that, at the time, had to be plugged into a television set to display what was being written. That first machine, given by her father, was the first milestone in what would turn into a very long tech career. Indeed, before even graduating high school, Ruth found herself outpacing her programming professors at the local junior college. This allowed her to eventually go on to take advanced courses in enterprise technology and big machine computing.
Her more than 30-year career makes Ruth a developing tour de force capable of getting a position at nearly any tech company, but Ruth explains that it wasn't cPanel's code base that brought her to the hosting platform of choice.
"cPanel's policy on transgender protections is why I am here. If it hadn't been in place, if it hadn't been on the website, I wouldn't be here and we wouldn't be having this conversation. Because this city and this state (Houston, TX) may not be supportive of my trans identity — but this company is."
This same passion and virtuosity are present throughout everything Ruth does, including the way she approaches software development. She explains that even software development takes empathy. "We need software that solves problems first and makes money second. If you don't get into the heads of the people you're trying to solve the problems for, you'll never truly solve the problem."
When it comes to building great things, cPanel & WHM is only a small part of Ruth's greater mission. For Ruth Holloway, it's about building a better tomorrow for everyone, regardless of whether or not you're a programmer. She explains, "I envision a place where each of us spends more time caring about the people around us than we do now. Where everyone can pursue the work that they want to, unhindered by censorship and violence. And each day that I play my role in building software, I know it's my responsibility to play that same role in building that future I envision for us all."
See what Ruth's up to next by heading over to her page.
Or check out the cPanel Jobs site and see how you can work alongside amazing developers like her!