In 2014, Forbes rated Houston as one of the Best Places for Business and Careers. BusinessWeek ranked Houston as the Best City for New College Grads. And this same year, Business Insider went on to name Houston as the Best City in America. Indeed, some of the most desirable places to work in the entire US are located right here in the Bayou City, and according to the Houston Chronicle — we're pretty high up on the list.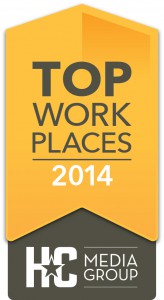 This past weekend, cPanel was selected, amongst hundreds of companies, as one of the Top Workplaces in Houston. More specifically, we were ranked 6th in the "Mid-Size Company" category when it comes to job satisfaction, as surveyed by employees. This news, which arrives on the heels of a new version release of the cPanel & WHM product, adds to a growing list of wonderful things happening in the cPanel ecosystem.
Between flexible work schedules, company outings, and limitless opportunities for continuing development, our Employee Support Department (ESD) works hard to keep each employee happy and eager to come to work each day (it also doesn't hurt to have daily catered lunches and a monthly "Sweet Treat Day").
"We work really hard to make sure we don't just hire brilliant people; we hire people who are passionate about what they do and have the innovative skills to take our company to the next level."
– Shaun, ESD Coordinator
One of the most exciting things about cPanel is that we're always growing. We're constantly looking for new talent to join the team and become a part of our mission. Make sure to stop by our jobs site and check out the latest openings. You can also learn more about cPanel's culture and take a peek into what goes on behind the scenes. And if you feel compelled, submit your resume to find out why some consider cPanel one of the best places you could ever work.
Take a peek: