There are only 2 1/2 weeks left in 2015, and if you're anything like our marketing department, you're already thinking about what you'll be doing in 2016. If you haven't started thinking about it, it's time to freak out. Yeah, I would definitely be freaking out.
I'm only half kidding, but to make it easier, our team has come up with a few ideas to help you better market cPanel & WHM in 2016 & beyond.
Out with the old
Last March, we rolled out all new branding, including a redesign of all our logo assets. So far we have focused on getting everything in order on our end, and we haven't done much in the way of making sure our partners update their use of our logos. In the coming months, that will change. We will turn into the brand police and starting asking that any old cPanel logos get updated to the latest versions.

Consistent branding isn't only important for us, but it helps you as well. If you're selling cPanel hosting and a customer sees something other than what they're seeing from us, they may not recognize it as the same control panel they know and love, and we don't want you to miss out on potential customers over an old logo.
Luckily, we've made it super easy to get everything updated. The cPanel Brand Guide is the place where you can download web and print-ready versions of our logos, along with our brand & style guide to help you.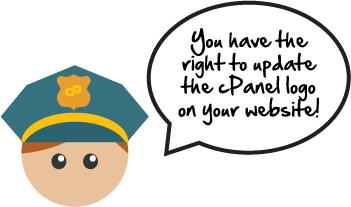 We've also just added a super useful white label sales sheet you can download. This sales sheet gives you the most common features and benefits web hosting customers are looking for that cPanel provides. You can use this as website copy, for print collateral, or whatever else you can think of. It's a tool from us to you to help you sell more web hosting with less work.
All the features
People love to compare when they shop, and it's evident in the presence of feature and pricing matrixes on almost every web hosting site out there.
For the past few years, we have released three new versions of cPanel & WHM each year, and that number will increase as we move forward. That also means we are always adding new features to our product. By visiting our release site and offering the latest version of cPanel & WHM, you can keep your feature matrix updated with the newest and shiniest features as soon as they become available.
It's all about you
One of the coolest things about cPanel & WHM is the ability to brand the UI, and with each new release, we've made it easier to do. As a hosting provider or reseller, you can completely change the look of the cPanel UI to match your brand guidelines.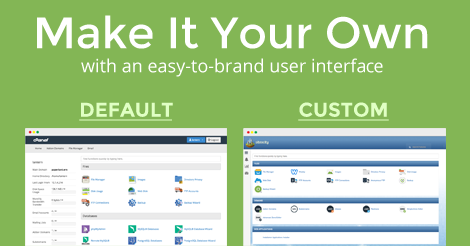 I can't tell you how many times people have asked me "what's the difference between the cPanel you work for and the one I use on my hosting provider?"
As someone who deals with branding for the company, I want to pull my hair out, but I think it's also a testament to how great of a job our customers do at creating unique, branded experiences for their own customers.
If you haven't read it already, my buddy, Long, recently wrote a great post about branding basics for cPanel. You should check it out and make sure to add this to your plans for 2016.
BONUS TIP: Own your own name
Because we know some of you own your own websites, we felt it was important to remind you to make sure you keep your domain names registered. There's nothing worse than having to come up with some creative name hack because you didn't act fast enough, or someone snatched great name from you for lack of paying attention.
Just last week, if you visited JebBush.com, you would end up on the campaign website for presidential hopeful, Donald Trump. Oops. I imagine there is an IT position opening on one of those campaign teams.
We're here to help
We hope these tips help you more effectively sell cPanel & WHM, but let us know what else we can do to make this easier for you in the future. We have some ideas of our own we'll be working on in 2016, but we want to make sure you have the tools and resources you need to make this even easier.
When you succeed, we succeed.